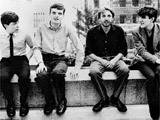 The Q Awards 2005 took place today Monday 10 October at the Grosvenor House Hotel, Park Lane, London.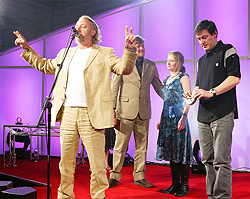 Presented by Guy Garvey from Elbow.
Winner: Joy Division, accepted by Peter Hook, Steve Morris and Natalie Curtis (daughter of Ian)
E

xchange Of

The Day

Peter Hook:"I remember Paul Weller saying to us one time: Are you the support band? And we said, No we're Joy Division.." Steve Morris: "That's very abstract, Hooky. True, but abstract." Hooky: "Bernard would be here, but he thinks Q are a bunch of two-faced cunts who have always given us bad reviews." Ah. Thanks, Barney. We think.