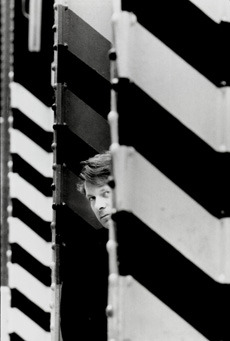 It was only fitting and proper that the wealth of glowing tributes which followed the sad passing of Tony Wilson, co-founder and director of Factory Records and the Hacienda, in August of this year, treated him as a national treasure. The National Portrait Gallery have now followed suit, as Abba to Zappa learns that they will be hanging this image of Tony Wilson by Kevin Cummins, as Portrait of the Month for December, after which it will be added to the national collection. The shot was taken on the dancefloor of the Hacienda on 10 May 1985.

'We don't have any pictures of Tony Wilson in the collection at the moment and we consider that he has made a significant contribution to British culture and life.'
Terence Pepper, Curator of the National Portrait Gallery, told us today.
'We were offered a number of different portraits of Tony and we thought that this portrait by Kevin Cummins was the most iconic.'
With the blessing of Wilson's partner Yvette Livesey, Kevin Cummins is producing a limited edition of signed prints that will be sold with proceeds going to Manchester Royal Infirmary (Kidneys for Life charity) and Christie's Hospital (which was were Wilson himself was treated).
The prints are handmade 16 x 20 inch gelatin silver archive photographic prints in an edition of 30, signed by Kevin Cummins. The prints cost 450 (incl VAT) each plus 10 P&P (in the EU).
Anyone interested should email kevin@kevincummins.co.uk